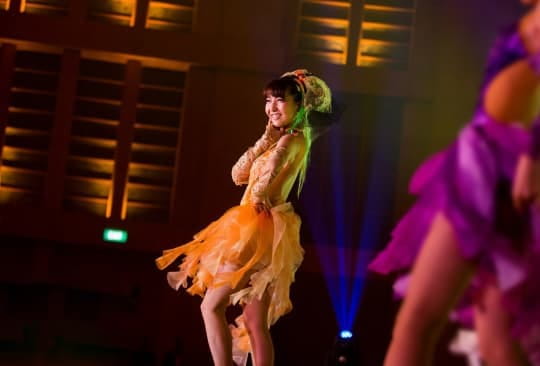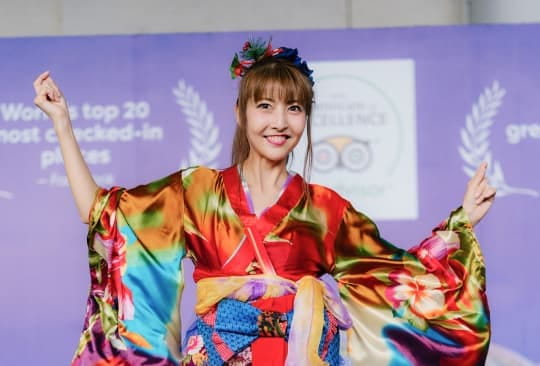 ABOUT Kmicco
I have been living in Singapore for 13 years and worked as a TV reporter as a "Singapore local idol." However, I have recently relocated to the United States to expand my scope of activities.
I am now available for filming in both the United States and Singapore. I am open to various types of work, including reporting, dancing, choreography, stage performances, project management, and production. Please feel free to contact me for any inquiries.
PROFILE
Kumi Sato(Kmicco)
Services to offerChoreography for stage, TV, commercials, etc/Stage management and produce/MC/Salsa dance performance
Available ClassesPrenatal and Postpartum exercise/Baby sleep training//Latin salsa exercise/Ladies salsa styling/ZUMBAHSP Baby sign(based on American sign language)/Baby massage
2012, established Kmicco Lifestyle starts lessons for Salsa, Zumba, Baby Class, and BodyConditioning class mainly at studio in Tanjong Pagar, but also at Japanese Association,Dance on Us at Orchard, and Orchard Central at Sommerset. Most of the students are Japanese and there are 160 people joining Kmicco's lesson in a week. Also, she is a director of herperforming group " Team Kmicco Singapore" and manages stagesfor performing salsa at several places in Singapore.
QUALIFICATIONS AND EXPERIENCES
Salsa instructor (It started in 2000)/Choreography/Walking and posture training/Acting lessons/Pronunciation training (Japanese language)/ABM (Attachment Baby Massage) Baby Massage Instructor License/ABM Ikuji Therapist License/Radio exercise certified instructor
Singapore Chingay Parade
choreographerfor Japanese Association Singapore for Chingay Parade which is promoted by Singapore Government.It was gathered by more than 350 people as dancers.Her team won,
Also she produced and choreographed the Awa Odori dance at Orchard Road parade in Singapore at SJ50 event.For more, she produces dance shows at EXPO, Cuba Libre appears at Clark Quay and several places in Singapore.
Chingay Parade Awards Received
2015

"Most Lively Contingent"

2016

"Most Popular Contingent Award"

2017

"Best in Contingent Display" (Performing Groups with more than 400 performers).

2018

"Most Popular Contingent"
From a young age Kmicco took a variety of lessons at NHK Nagoya Housou Gekidan where she studied dancing, acting and vocals. She then started acting as a child-actor in NHK TV dramas, musicals and TV commercials. At the age of 15, she was recruited by an acting agency in Tokyo.After moving to Tokyo, Kmicco appeared in TV dramas, entertainment shows, musicals, TV commercials and radios. Having acquired great experience, Kmicco became involved in teaching acting, vocals, dancing and modeling while at the same time stage- managing at a theatre-restaurant in Aoyama, Tokyo. Here her students performed Kmicco's choreographed routines every night and Kmicco herself appeared in the show as the lead actor.
From 2001 to 2005, Kmicco was the main commentator in her own weekly TV programme, Kmicco☆salsa station under Sky Perfect TV cable cannel. As a part of the programme, she interviewed a variety of established salsa dancers from Europe and America and contributed to the Japanese salsa dance society. Her performances both in Japan and abroad received great reviews and she produced and performed at dinner shows for several years.She then developed an interest in new coaching methods, exercise therapy and child psychology, and developed her own baby class curriculum and teaching methods.Around this time, Oyamada Dragon, one of Japan's most popular manga authors, started the very first salsa dance themed manga in Young Sunday magazine based on Kmicco's dance studio. Kmicco also established a reputation as a 'Beauty Adviser' in various media.
Health and exercise magazine Tarzan introduced her article on 'How to create beautiful legs'. Kmicco also appeared in other magazines as a Posture and Walking Adviser for Hisako Shirata, Miss Japan 2007.
Acting work
Television commercials
Malaysia Airlines
Muse'e Orsay
Amataro Restaurant Chain
Modelling work
Bandai Namco Entertaiment
Nihon Bus Association
Television Drama Series
Junior High School Diaries(1992-94,NHK)
Monday Drama Land(1995,Fuji TV)
Hamidashi Deka (1996,Toei TVP)
TV Variety Shows
Oh! E-RU Club(1989-91,Asahi TV)
Ikeiike Club(Ikeike Girls Group)(1991,TBS)
Kmicco Salsa Station (Show Host)(1999-04, Sky Parfec TV)
Radio Show
Onkyo Sound Advice (Talk Show Host) (1995-97,Tokyo FM,Osaka FM)
Musicals
TV Summer Musicals(1880-85,NHK)
Time After Time (Lead Role)(1990,Tokyo Metropolitan Theatre)
Lady Andriod(Lead Role)(1993,Tokyo Metropolitan Theatre)
Theater
Stage 14°(Lead Role + Producer)(1996-99,Aoyama)
Kmicco Salsa Dinner Show(2004-06,The Bellclassic Kofu)
Kmicco Salsa Show(2006-08,SAMRAT Shinjyuku )